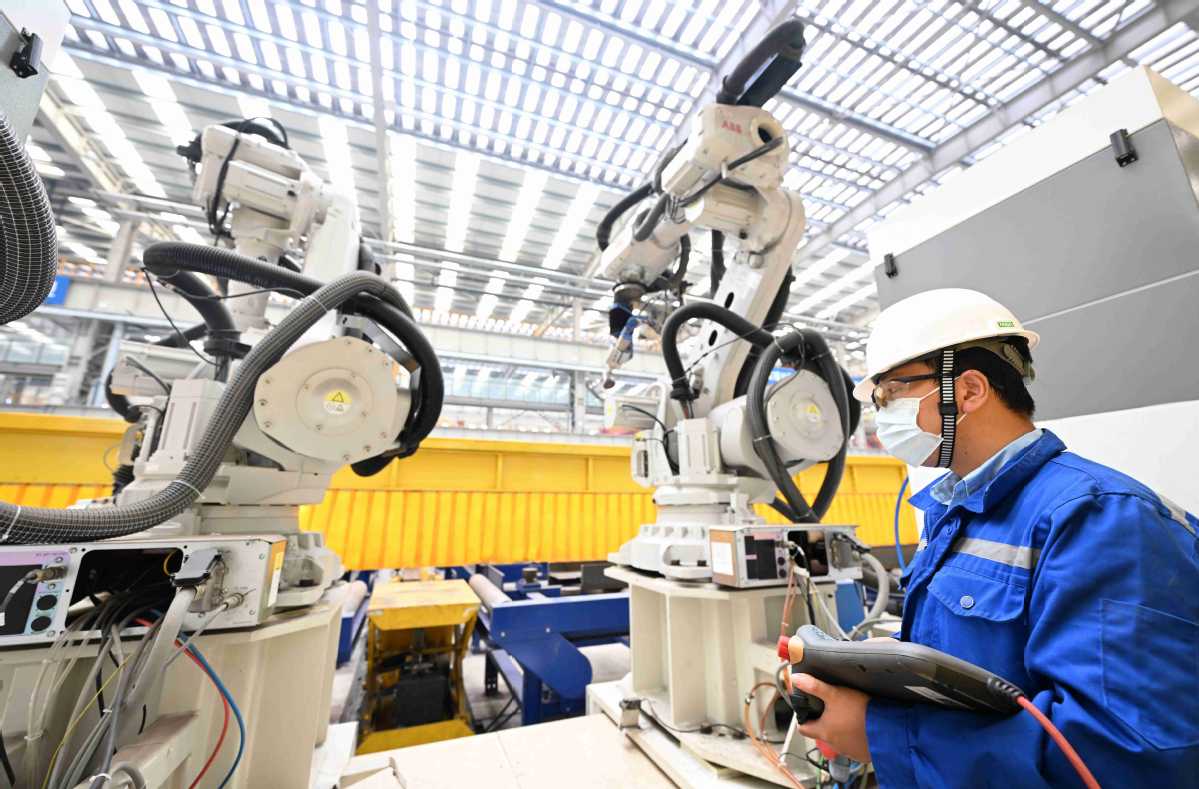 IDC: Investment by Chinese companies in digital solutions will explode in next 5 years
Spending by Chinese businesses on digital businesses will witness rapid growth in 2023 as cutting-edge digital technologies, such as 5G, artificial intelligence and cloud computing, are increasingly applied in a wide range of fields and integrated into the real economy, according to market research company International Data Corp. .
IDC said that the digital transformation of enterprises will stand at an inflection point this year and the next five years will still be a golden period to push digitalization, expecting that more than 50 percent of global GDP will be driven by digitally transformed enterprises in the next five years
"Chinese companies' investment in digital transformation is expected to quadruple their economic growth in 2023, with the compound annual growth rate of digital business spending reaching 19.1 percent between 2023 and 2026," said Wu Lianfeng, vice president and chief research analyst of IDC China. .
Wu said that by 2027, 40 percent of the total revenue for China's top 2,000 companies will be generated from digital products, services and experiences, while the current figure is less than 20 percent.
Spending on digital technologies will continue to be the key focus of both global and Chinese company executives. The number of technology companies among China's top 500 companies will double by 2027. In addition, by 2024, 40 percent of CEOs of China's top 2,000 companies will ink strategic relationships with their cloud computing providers, according to IDC.
The proportion of enterprise spending on software as a service, or SaaS, business worldwide is likely to exceed 50 percent in total spending. By 2026, businesses that fail to effectively address the talent and digital skills gap in their organizations will limit revenue growth opportunities by 20 percent.
With the flourishing of 5G, big data, AI and other innovative digital technologies, the digital economy is gradually becoming the integral force for economic growth.
The scale of China's digital economy will reach 45.5 trillion yuan ($6.6 trillion) in 2021, ranking second in the world and accounting for 39.8 percent of the country's GDP, according to a white paper published by the Chinese Academy of Information. and Communication Technology.
Enterprises in the fields of finance, telecommunications and the Internet have taken the lead in digitization and invested heavily in digital technologies, Wu said, adding that governments around the world have attached great importance to digitization.
Digital transformation is also accelerating in the new sectors of business, high-tech manufacturing and transportation, and there is huge room for growth in agriculture, Wu said.
Last January, the State Council, the Cabinet of China, announced a plan to further accelerate the development of the digital economy during the period of the 14th Five-Year Plan (2021-25). The country aims to raise the proportion of the added value of core digital economy industries in its GDP to 10 percent in 2025, according to the plan.
Wu also pointed out that Chinese enterprises face increasing difficulties and challenges in the process of digital transformation, such as a lack of innovation and cooperation between various departments of enterprises, budget shortages and inadequate skills. He called for businesses to come up with long-term plans for digital transformation and continuously pour money into this field.
The digitization of enterprises serves as the cornerstone of the digital economy, said Li Wei, vice president of cloud computing and big data research at the CAICT, adding that the COVID-19 pandemic has accelerated the development of cloud services and cloud computing applications, which played a vital role in strengthening the development of the digital economy.
He said enterprises should accelerate the pace of digital transformation, focus on consumer demands and integrate online and offline channels, as well as promote the transformation and upgrading of traditional industries.
Xiang Ligang, general manager of the Information Consumption Alliance, a telecommunications industry association, said that emerging digital technologies represented by 5G, big data and AI have played a critical role in improving operational efficiency, cutting costs and improving the core competitiveness of traditional industries in the middle . downward economic pressure.