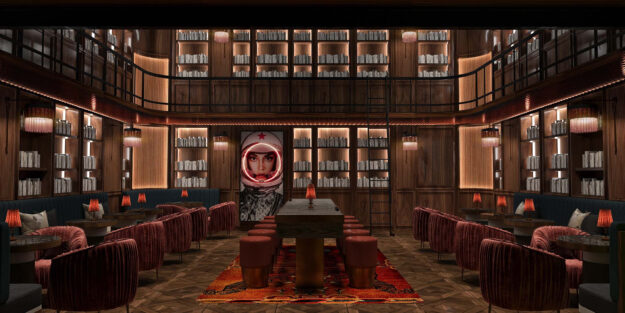 Traveling to the new Vail entertainment venue in Solarisville last week, I think I was doing exactly what the name of the venue would have you do: I was having irrational thoughts about past parties at the venue and another I was totally blown away by the musical memories from the era. .
Chasing the Rabbit, with its many rooms, themes, drinks and food experiences, goes full force on Friday nights with Willow's best DJ Logic (see the two-week schedule below) but it doesn't try to beat Garten (8150). Well, popular in the 90s. Music Venue at Solaris Front Crossroads.
There can be big name acts on Rabbit Chase, but most likely on an invitation only basis. While Garton has seen artists like Sheryl Crow, Dave Matthews and Spearhead-era Michael Franti play to huge crowds on its dancefloor, these days Solaris Plaza has to handle the volume of the action (remember that Macklemore show? ).
The rabbit chase will be a lot closer, a lot louder, and likely, in the long run, just as fun. It has an arcade, multiple movie screens, plenty of space for DJs to dance to and some live acts, and an overall artsy and techno vibe like never before.
The death of Crossroads in 2007 also meant the death of the 8150, and Vail's music scene has been somewhat devastated since the release of Solaris in 2010. Solaris brought bowling, great movie theaters, ice skating and a plaza that hosted many memorable shows. A void in the indoor live music scene that cannot be filled by the Beaver Creek Wheeler Center.
Chasing the Rabbit will give Will a space for an inner-city party that's much bigger and more varied than the old 8150's from the exciting underground stage at Shakedown, with its rabbit warren of different rooms. It is meant to stimulate the senses and distract from the original intention.
Just as the Ville was popularly defined by apres ski parties in its infancy in the 60s, the late-night entertainment at Casino Ville transformed into jazz, rock and more, in my 90s. Will's early musical memories will always revolve around Garton and 8150.
Now the new generation can start chasing rabbits, with DJ Logic kicking things off on Friday:
Friday December 23rd
DJ logic
9 am to 12 pm
Ticket Link: https://www.eventbrite.com/e/dj-logic-tickets-444632526857
New York-based DJ Logic heads down the rabbit hole to introduce Rabbits live entertainment. The new destination will host DJs every Friday and Sunday night.
Thursday December 29th
Jazz Rabbit on the Moon – The Tina Marks Trio
8 to 11 p.m
Ticket link: https://www.eventbrite.com/e/jazz-at-moon-rabbit-the-tina-marx-trio-tickets-484539068397
Head to the Moon Rabbit to enjoy an evening of jazz with cocktails at the one and only speakeasy. This event is free – all guests must be 21+.
Friday, December 30th
DJ Chris Calderon
9 pm to 1 am
Ticket link: https://www.eventbrite.com/e/lucky-friday-feat-chris-cauldron-tickets-473625906837
Join DJ Chris Calderon at the Rabbit Hole for a night to remember. As a music supervisor in many of the world's nightlife and hospitality venues, DJ Chris Cauldron has created thousands of playlists spanning every genre you can think of. Chris has residencies in NYC, Denver, Aspen and the Caribbean while also playing the club and festival stages with the likes of Bob Moses, Walker & Rice, Tara Brooks, Justin Jay, Jay Vora and more. This event is free – all guests must be 21+.
Saturday, December 31st
In honor of the 20th anniversary of the new year
**sold out**
9 pm to 2 pm
Ticket link: https://t.nylas.com/t1/100/crwnxlx13dhsuc5mfnaw7phu5/2/e04a820f15fca8a9071086444d4286df8252d96400c3609947383c36099473f
Chasing Rabbits will host a Roaring 20 New Year's Eve party complete with live entertainment, a champagne toast and more. Guests are invited to dress in 1920s clothing (or dress to impress) while they enjoy craft cocktails and entertainment from Thievery Corporation and Fort Knox Five ETHNO, and prohibition-inspired entertainment. ​Including burlesque dancers, magicians, tarot card readers, contortionists and more. Tickets are available for $225 per person and include entry to the party at midnight as well as appetizers and a champagne toast. The event is sold out, but guests can register to be placed on the waiting list.
Tuesday, January 3rd
Bingo in the rabbit hole
6 pm to 8 pm
The Rabbit Hole will be hosting bingo every Tuesday night – more info coming soon!
Wednesday, January 4th
The Will Comedy Show with Sean Patton
Doors 7pm, show time 8pm
Ticket link: https://www.eventbrite.com/e/vail-comedy-show-at-chasing-rabbits-january-4-2023-sean-patton-tickets-469686945297?aff=cr1
Follow the rabbit for Will's comedy show with special guest Sean Patton from Comedy Central, Conan, Fallon and more. Prices from $35-$100.
Sunday, January 8
DJ Lando
9 pm to 1 am
Ticket link: https://chasingrabbitsvail.com/schedule/sunday-night-dj-sets-coming-soon/
The Rabbit Hole will welcome their resident DJ, DJ Lando, every Sunday. More details to come.
The bottom two tabs change the content below.
David O'Williams is the editor and co-founder of RealVail.com and his award-winning work (see About Us) has been published in more than 75 newspapers and magazines worldwide, including 5280 Magazine, American V Magazine (American Airlines) ), Anchorage Daily News (Alaska), Anchorage Daily Press (Alaska), Aspen Daily News, Aspen Journalism, Aspen Times, Beaver Creek Magazine, Boulder Daily Camera, Casper Star Tribune (Wyoming), Chicago Tribune, Colorado Central Magazine, Colorado Independent (formerly Colorado Confidential), Colorado Newsline, Colorado Politics (formerly Colorado Statesman), Colorado Public News, Colorado Springs Gazette, Colorado Springs Independent, Colorado Statesman (now Colorado Politics), Colorado Times Recorder, Cortez Journal, Craig's Daily Press, Curry Beach Pilot (Oregon), Daily Trail (Ville), Del Norte Tripartite (California), Denver Daily News, The Denver Gazette, The Denver Post, The Durango Herald, The Eagle Valley Enterprise, The Eastside Journal (Bellevue, Washington), ESPN.com, Explore Big Sky (Mont.), The Fort Morgan Times (Colorado), the Glenwood Springs Post-Independent, Grand Junction Daily Sentinel, Greeley Tribune, The Huffington Post, King County Journal (Seattle, Washington), Kingman Daily Miner (Arizona), KUNC.org (Northern Colorado) , LA Weekly, Las Vegas Sun, Leadville Herald-Democrat, London Daily Mirror, Moab Times Independent (Utah), Montgomery Journal (Maryland), Montrose Daily Press, New York Times, Parent's Handbook, Pax Magazine (now Epic Life), People Magazine, Powder Magazine, Pueblo Chieftain, PT Magazine, Rio Blanco Herald Times (Colorado), Rocky Mountain Golf Magazine, Rocky Mountain News, Route Fifty. com (former government executive state and local), Salt Lake Tribune, SKI Magazine, Ski Area Management, Skiing Magazine, Sky-Hi News, Steamboat Pilot and today, Sterling Journal Advocate (Colorado), Summit Daily News, US Half Creek (United Airlines), Whale/Beaver Creek Magazine, Whale N Espanol, Whale Health Magazine, Whale Valley Magazine, Whale Day, Whale Trail, Westward (Denver) Eagle on the Range and Wyoming Tribune About the authors. Williams is also the founder, publisher and editor of RealVail.com and RockyMountainPost.com.