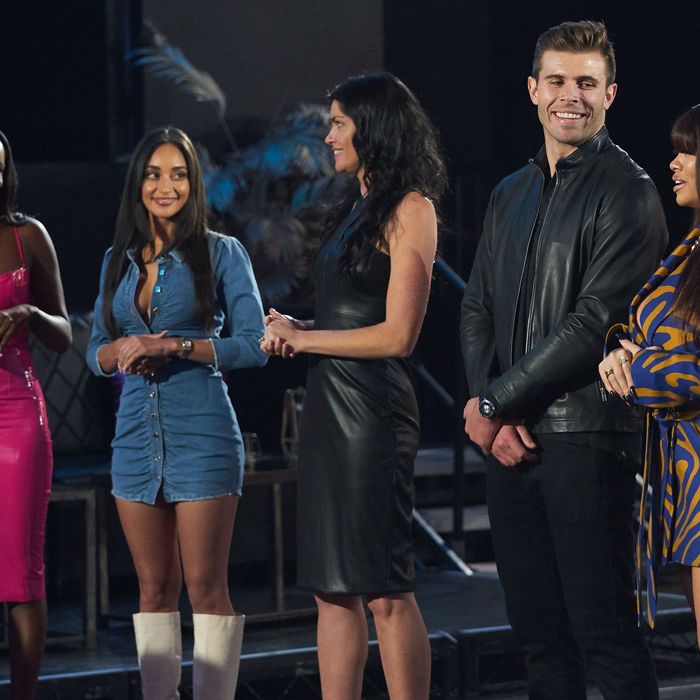 The Bachelor
Week Two
Season 27

Episode 2
Editor's Rating

3 stars

***
Photo: Vulture; Photo: ABC/Craig Sjodin
Bachelor Nation, if you're reading this, it's too late. You're watching this show until Jesse Palmer does a landing dance on his unclaimed cold grave. This week, our guy Zach has hit the press, and we've dealt with him another competitor (Greer) blackface defense, this time in the stupidest way possible. At this point, it must be intentional, because their background checks – which are done by Henry the Pig and one cup of coffee – are clearly missing things that are unforgivable. Sigh, guess we're all in it for the long haul.
And, before I begin, I apologize to the Minnesotans for the misspelling ugh yes in my last summary. Now, let's get ugh yes it.
The episode begins with the girls running into the mansion excited, though it's clear they're already inside showering and changing from episode one's sunrise ceremony. While Zach shows off his hairy stomach in the shower, the girls tell Jesse how excited they are about their relationship, and right now, I miss the days when Tayshia and Kaitlyn were hosts. No offense to Jesse, but chatting up girls doesn't come as easy when you're opening up to an ESPN college football commentator.
Now, Jesse tells the ladies that Zach is doing things "a little different" this year and making time for dates with all of them instead of, like, excluding two of them, so they sob a little more in their confessionals before the inevitable packing. Time for the first group date! Brianna, Brooklyn, Katherine, Mercedes, Bailey, Davia, Cat, Genevie, and Kylie all go. They show up at an empty warehouse and … it's "Big Energy" singer Latto!! This is incredible Bachelor cameo – real people remember to sit through alleged artists like "Connor Duermit" and "Lucy Angel" – if not completely antithetical to everything Zach represents.
Latto tells the gathered women that she wants Zach's wife to have bad energy and she reiterates this in confession. Producers, here's your chance – put it on the show! But Latto isn't the only outsider here to teach these girls a thing or two: Victoria F., Tahzjuan, and Courtney Robertson stepped in to instruct them on how to edit a villain because, obviously , no one is getting taller so far. . And, side note: Why is Courtney Robertson here? I'm sure most of the women on this group date weren't even alive during Ben Flajnik's season, let alone old enough to watch it. Maybe she is promoting to follow up to I Didn't Come Here To Make Friendstitled this time I Didn't Come Here To Teach A 26 Year Old To Runway Walk.
Now it's time for the part of the date where the women prove "how much they want Zach," or debase themselves on national television. A cat swims down the runway in cat ears! Bailey wears a Nicki Minaj wig! Mercedes hits him with a cane! Look, they are woman material! Then, Latto asks them to tell Zach "one time" when they had a bad day, and almost all of them don't pass the edit except for Kylie and Brianna, who think they've done certain things in their lives.
But none of this is enough for self-proclaimed "bad-ass" Tahz, who, if I remember correctly, once screamed, "Tahz can't pee! Tahz can't poop!" by the ocean during a Paradise break down. She starts pretending that women aren't good enough for Zach, which is…hot. But then, during the after party, she shows up! To win Zach's heart! I'm sorry, why does she want to embarrass herself for this franchise again?? Was she dying again to gossip about one guy while sitting around a pool with her 30 closest frenemies? Did she really miss the rickety mansion bunk beds to much? Do you want to smell the intoxicating scent of Ariana Grande's Cloud's perfume and despair one last time? Tahz, be free! Tahz, fly the coop!
This completely excludes the ex-partner – who takes place in what appears to be an abandoned furniture store – as he fulfills the double duty of uniting the remaining women. After talking to Zach and officially entering the transition portal, Tahz engages in a complicated negotiation with management, and the women ask her why she's here and what she wants. In response, she reads them poetically, telling the women that it was "very painful" to watch their performances on the group date and that she can't see Zach's wife in the room.
Because the rest of the girls have been there for two days straight, they have no answer, so everyone just stands there winking at each other until Zach reminds Tahz that she's already been on this franchise twice and that he would be facing a full strike if he allowed her to come on the show again. So after Tahz cries that she can't find love, that's the end of that. Labor negotiations are so complicated these days!
The rest of the date proves Tahz's point that these girls are kind of boring: Brianna whines that she doesn't know if Zach likes her because she got American First Impressions. Katherine gets the group date raised after like a three-second-long chat and a three-minute long makeout sesh. Forward!
Now it's time for Christina Mandrell's face-to-face, and she's ready to tell Zach the Big News: She's a mom. But before that, they have to meet his whole family, which, for some reason, has become an increasingly popular first date for Bachelors and Bachelorettes who live within a helicopter ride away from the mansion. . I don't know what kind of woman wants to meet Young Zach's Uncle Louis before they've even held hands, but okay!
After they land the helicopter outside Zach's childhood home, we learn that this was a BBQ for his mother's birthday, which was a week ago, but he missed it because he was busy crushing the hopes of those who influenced them. . Christina then meets Zach's entire family, minus Patrick Warburton, who was presumably absent from the shooting Big Baby Shark Show!, a TV series he's actually doing. Honestly, she seems to fit in pretty well aside from telling Zach's cousins ​​that he's an attractive guy, which makes the situation seem hollow. Can't win them all!
But it all goes downhill when Christina finally reveals that she is a mom to a five-year-old girl named Blakely May during the night part of the date. But apparently accidentally swallowing baby food himself, Zach explains that he doesn't know if he's ready to be a father. Although he's sure that Blakelee Mae is "full of attention" (he hasn't met her), he didn't think he'd be a dad this soon, which is fair enough even though he knew this was a possibility and he dating 30 women. . It seems like it's curtains for Blakleleigh's mother May until Zach suddenly gives her the rose because he thinks she's "worth it" (she's getting a villain edit next week). They kiss in what appears to be an abandoned saloon, and this, along with the furniture store date, is when I know the recession has finally hit this show.
Wake up, leftovers; it's time for the second group date! After spilling on one finger of whiskey in an abandoned backyard, Zach takes this opportunity to kiss Greer, Kaity, Charity, and Ariel, who he hears anyway with his own that he must reward her with a smock. But none of this holds a candle to Jess, who forces him to admit that he was diagnosed with a serious case of Blakely May when he was younger…sorry, pyloric stenosis that left him very close to his mother. They kiss, and she confirms the rose group date (and probably next week's one-on-one).
Unfortunately, Gabi, who until this point has remained one of the many anonymous women approached for reaction shots, is not happy with the proceedings. She still hasn't spoken to Zach, and meanwhile, people are out here learning about his childhood trauma?! This overthinking causes her to completely shake the bag when she has time to chat with Zach, calling him "Zachypoo" and complimenting him on her trips to the farmer's market. After she yells at a producer, it's starting to look like curtains for Gabi, but she shoots down the accusations about 15 minutes later when she feeds him chocolate at the rose ceremony cocktail party. Future students of the game, take note: Chocolate = fast recovery.
Brianna has sadly taken the rest of the cocktail party. Remember Brianna, Rose's American First Impression, who was, until this point, safe? Well, she's not in love with that. She blames Christina, who made a (actually, somewhat innocuous) comment on Night One about how she hated Brianna because her dress was too pretty. It's clear that the producers have informed her that a dramatic twist is more attractive to the audience than a hateful twist, so it's time to fight!
Unfortunately, there's no payoff here: When Brianna confronts Christina, she immediately folds and apologizes. You will not catch her in a villain edit! But Brianna still brings up the idea to Zach, who tells her to handle this internally, and he doesn't want to hear about it. He then takes that opportunity to tell her that their conversations didn't feel right crazyand really, Zach, you want to talk about it CRACK??? The whole thing feels like SNL a parody of it The Bachelor.
Rose ceremony time! Brooklyn, Genevie, Greer, Aly, Charity, Kaity, Gabi, Ariel, Anastasia, Kylie, Davia, Mercedes, Bailey, and Brianna get roses, as do Cat, Victoria J., and Kimberly (who, until that point was , calling "short-haired girl" in my mind) going home. Farewell, Cat, and your puns on the theme of the feast!
Next week, it looks like we'll be getting Christina taking on her villainous organization and some good old fashioned shaming. Raise a glass of champagne to that.
Register here for email alerts for all new The Bachelor summary.