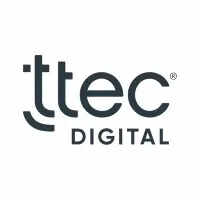 TEC Holdings, Inc. (NASDAQ:TTEC), one of the largest global customer experience (CX) technology and service innovators for end-to-end digital CX solutions, today announced the expansion of its partnership with Google Cloud, which will allow customers to use the capabilities of Contact Center as a Service (CCaaS) powered by Google AI to enhance real-time interactions with customers across digital and live channels.
"The partnership with Google Cloud extends TTEC Digital's cross-platform capabilities in developing and delivering world-class cloud environments that accelerate the ability to realize the next generation of customer and agent interactions," said Ken Tuchman, President and CEO of TTEC. "Google Cloud's increased focus on CX-related technology capabilities opens up new opportunities to orchestrate the future of the contact center."
TTEC Digital has a wealth of knowledge in designing and orchestrating exceptional CX built on cloud platforms for a digital first world. Leveraging Google's Contact Center Artificial Intelligence (CCAI) Platform, a new customer-driven contact center offering, will enable TTEC to design engagements around the customer device at the point of service, optimized for mobile interactions. Building on Google's rich history in natural language data, TTEC Digital will be able to illuminate intelligent and predictive engagement embedded in the interactions through contact center platforms.
"Google is helping businesses across industries and geographies reimagine contact center interactions for the modern consumer," said Andrew Moore, vice president and general manager, Cloud AI & Industry Solutions, Google. "We are excited to partner with TTEC Digital to fulfill this vision. Their knowledge and breadth of delivering Total Experience transformations across the enterprise will pay tremendous dividends for our clients."
Cloud-based innovation will continue as TTEC Digital builds intellectual property around Google Cloud, driving new capabilities into the market-leading cloud platform that will extend to the workforce that operates contact centers for TTEC's global customer base. This expanded partnership will enable customers to deliver fast and intuitive self-service to their customers, and provide agents with the context, insights and intelligence to deliver timely, accurate responses that improve customer satisfaction, loyalty and lifetime value.
The CCAI partnership builds on successful collaboration between TTEC and Google to deliver intuitive automation, unified customer data, proactive and preventative service and AI-powered decision making at every customer interaction.